Lineage Masters
The highly accomplished teachers and spiritual guides from our tradition.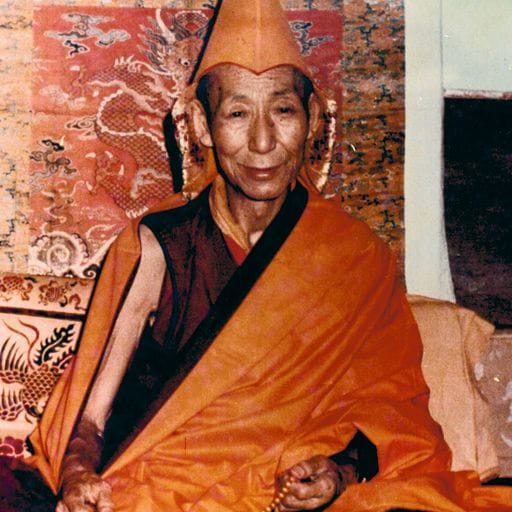 H.H Trijang Dorje Chang
H.H. Kyabje Trijang Dorje Chang (1901-1981) is recognized as one of the foremost Tibetan Buddhist Masters of our time. Kyabje Trijang Dorje Chang was the tutor  of H.H. 14th Dalai Lama.
Kyabje Trijang Dorje Chang was revered for his extraordinary method of teaching and his precious activities, particularly those of the tradition of Je Tsongkhapa. Up to the end of his life, Kyabje Trijang Dorje Chang continuously turned the Wheel of Dharma for the benefit of all sentient beings.
The flourishing of the Dharma in the West is strongly connected with him, not only through his own teachings but also through the precious activities of his great disciples such as Kyabje Zong Rinpoche, Venerable Geshe Rabten Rinpoche,Venerable Lama Yeshe, Drubwang Gangchen Rinpoche, Geshe Kelsang Gyatso and many others. Without him Tibetan Buddhism and in particular the tradition of Je Tsongkhapa would not be so highly regarded and widespread today.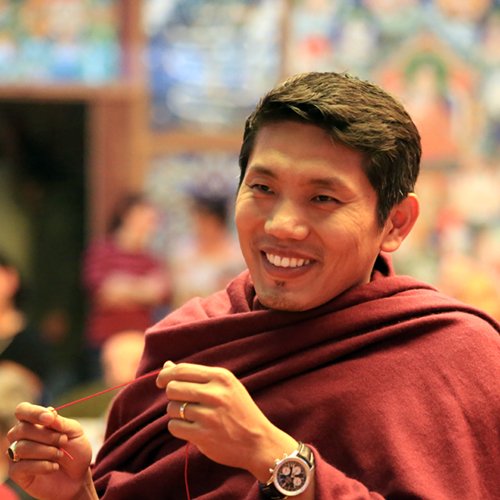 H.H Kyabje Trijang Chocktrul Rinpoche
H.H. Kyabje Trijang Chocktrul Rinpoche is the eighteenth in a lineage of eminent Indian and Tibetan scholars and masters. The present supreme reincarnation was born on October 15, 1982, to a Tibetan family in Dalhousie, northern India, and was officially recognized as the reincarnation of Kyabje Trijang Dorje Chang by His Holiness the 14th Dalai Lama on April 23, 1985. He completed his primary studies under the guidance of his root guru, His Eminence Kyabje Lati Rinpoche, and Kyabje Dagom Rinpoche. He is currently finishing his studies under the guidance of H.E. Dagpo Rinpoche and H.E. Yongyal Rinpoche.
His Holiness Kyabje Trijang Chocktrul Rinpoche has visited Kunpen Lama Gangchen on several occasions and has transmitted various initiations and teachings to the sangha in Italy.
---
H.H Kyabje Pabongka Dechen Nyinpo and H.H Kyabje Phapongka Choktrul Rinpoche
H.H. Kyabje Pabongka Rinpoche, Jampa Tenzin Trinlay Gyatso (1878–1941), was one of the greatest lamas of the 2oth century. He attained his geshe degree at Sera Monastic University, Lhasa, and became a highly influential teacher in Tibet. He was the root guru of Kyabje Ling Rinpoche and Kyabje Trijang Rinpoche, the two tutors of the present Dalai Lama; he was also the teacher of many other Gelug lamas who brought the Dharma to the West such as Lama Gangchen Tulku Rinpoche.
Pabongka Rinpoche's book is one of the primary Lamrim texts in the Gelugpa tradition.
We continue to be guided by him through his precious teachings such us Liberation in the Palm of Your Hand which is one of the most important guides to the path of enlightenment of the Gelug tradition.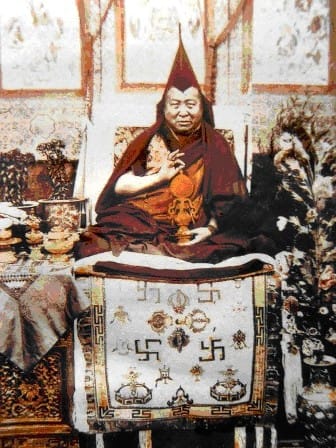 ---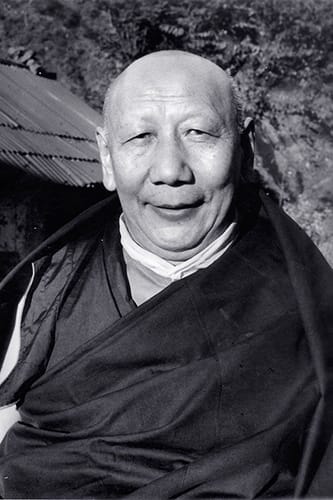 Kyabje Ling Rinpoche
Thupten Lungtok Namgyal Trinley, H.H. 6th Yongzin Ling Rinpoche, was one of the most renowned and qualified masters of the 20th Century. His students included masters from all four Tibetan Buddhist schools. He was a very learned and accomplished writer, poet and grammar expert. In 1965 H.H. Ling Rinpoche was appointed the 97th Ganden Throne Holder ("Ganden Tripa") and held this position as the head of the Gelug school for more than 20 years, longer than any other occupant of this throne.
Kyabje Yongzin Ling Rinpoche was born in 1903 not far from Lhasa in Kyisho. After only 12 years of study at Drepung Loseling Monastic University, he received a Geshe Lharampa degree at 21 years of age. Rinpoche served as disciplinarian and Abbot of the Gyuto Tantric Monastery, before serving as the 14th Dalai Lama's tutor.
Kyabje Yongzin Ling Rinpoche gave many public and private teachings and initiations throughout his life in Tibet, India, Europe and North America.
---
H.H Kyabje Zong Rinpoche
H.H Kyabje Zong Rinpoche was a highly acclaimed Gelugpa master born in 1905 in Mangsang, Kham,Tibet.
At the age of 11, he joined Shartse College of Gaden Monastery to begin his studies and there he met the then 14 year old H.H. Kyabje Trijang Dorje Chan who helped him throughout his first course in elementary dialectics; he later became his root guru. In 1930, at the young age of 25, Kyabje Zong Rinpoche attained his Geshe Lharampa degree.
Under Kyabje Zong Rinpoche's guidance, Gaden Shartse saw many great changes among which included a new level of excellence of monastic discipline and scholarship, a visibly strong interest in Tantra and rituals, and a definite improvement in the Monastery's administrative structure.
After serving as the Monastery's Abbot for over nine years, he went on a long pilgrimage to Tsari in southeastern Tibet. Wherever Kyabje Zong Rinpoche travelled he became even more famous for his healing abilities and for bringing abundance and blessings.
In 1965, at the request of H.H. the 14th Dalai Lama, Kyabje Zong Rinpoche took on the role of Director of the Tibetan Schools Teacher Training Programme in Mussoorie, and the first Principal of the new Central Institute of Tibetan Higher Studies at Sarnath in Varanasi, India.
Kyabje Zong Rinpoche made three trips to the West, travelling around North America and Europe.
H.H Kyabje Zong Rinpoche was one of the main gurus of Lama Gangchen Tulku Rinpoche who served him as his personal attendant for many years.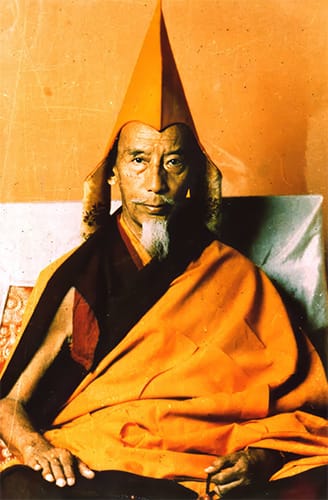 ---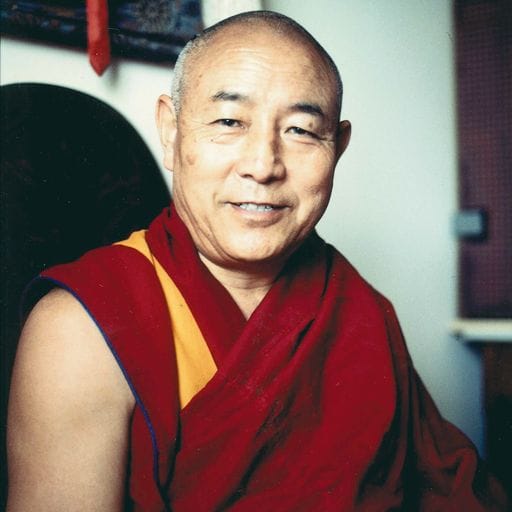 Ven. Geshe Thubten Trinlay
Geshe Thubten Trinley was one of the closest disciples of Venerable Geshe Rabten Rinpoche. He spent his early years in Sera Jey Monastery, studying under prominent and eminent teachers including Geshe Rabten Rinpoche, Kyabje Trijang Rinpoche and Kyabje Ling Rinpoche. He is known for his Lamrim retreats in Dharamsala, deep practice and excellence in his Dharma studies.
Over the years, Geshe Thubten Trinley rose to become a highly revered teacher within the Gelug lineage. Many monasteries and Dharma centres regularly invited Geshe Thubten Trinley to give teachings on Buddhist philosophy, Lojong, Lamrim and Shantideva's Bodhisattvacharyavatara, as well as to preside over prominent religious festivals such as the Great Prayer Festival (Monlam Chenmo), prayer sessions and initiations. He also gave annual teachings and initiations in Shar Gaden Monastery in Mundgod, Karnataka, India.
Geshe Thubten Trinley had lately transmitted Mahamudra teachings to the sangha in Italy
---