Masters & Teachers
Lama Gangchen Rinpoche is the founder of Kunpen and the initiator of the NgalSo tradition. Lama Michel Rinpoche and Lama Caroline are lineage holders.
Lama Gangchen, Lama Michel and Lama Caroline conduct most of the Dharma teachings and retreats in the centers in Albagnano and Milan. Several other masters and teachers regularly come to visit and guide Dharma activities. 
---
Residential Masters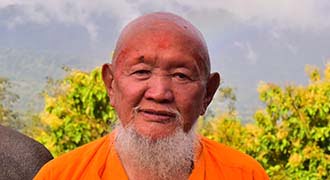 Lama Gangchen Rinpoche
About Lama Gangchen Rinpoche
T.Y.S. Lama Gangchen Rinpoche was born in western Tibet in 1941.
He was recognised at an early age to be a reincarnate lama healer and was enthroned at Gangchen Choepeling Monastery at the age of five. At the age of twelve he received the "Kachen" degree, which is usually conferred after twenty years of study. Between the ages of thirteen and eighteen, he studied medicine, astrology, meditation and philosophy in two of the major monastic universities of Tibet: Sera and Tashi Lhunpo. 
He also studied Tantra and healing methods from some of the most important Gelugpa lamas including H.H. Trijang Rinpoche, Venerable Ling Rinpoche and Venerable Zong Rinpoche.
In 1963, he began his studies at the Varanasi Sanskrit University in Benares, India and in 1970 he received the Geshe Rigram degree (doctorate in Buddhist philosophy) from SeraMe Monastic University, South India.
After completing his formal studies he worked as a lama healer among the Tibetan communities in Nepal, India and Sikkim, during which time he saved the lives of many people and was named private physician to the Royal Family of Sikkim.
In 1981, Lama Gangchen visited Europe for the first time and has since become a resident and Italian citizen. 
Since 1982, he has travelled worldwide both healing and teaching, he has also led many pilgrimages to some of the most important holy places of different religious and spiritual denominations in the world.
Lama Gangchen has developed many meditation practices that are particularly suitable for the busy western mind and lifestyle, such as NgalSo Tantric Self-Healing, a method that helps recognise our real inner qualities and balance body, speech and mind. He has diffused his unique teachings on inner peace education and environmental care, promoted cooperation between the East and West and encouraged the diffusion of Himalayan culture and traditional healing methods. 
In 1992 he instituted the Lama Gangchen World Peace Foundation, a non-governmental organisation associated with the United Nations Department of Public Information. In the same year he founded the charity Lama Gangchen Help in Action with the aim of bringing much needed help to communities in the Himalayan region.
In 1995 he wrote a proposal for the institution of a Permanent Spiritual Forum at the United Nations, in which the representatives of all spiritual and religious movements could participate in order to contribute to the realisation of world peace.
He is responsible for numerous centres and associations in Europe, Asia, and America and works tirelessly to help anyone who desires healing and peace by rediscovering their own pure crystal nature.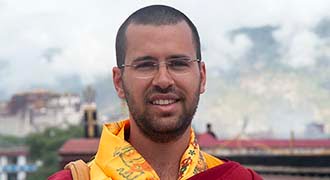 Lama Michel Rinpoche
About Lama Michel Rinpoche
Lama Michel Rinpoche was born in 1981 in Sao Paulo, Brazil in a Christian-Jewish family. At the age of five his connection with Tibetan Buddhism became evident when he met Lama Gangchen Rinpoche during his first visit to Brazil, organised by his parents and their friends Monica Benvenuti and Claudio Bianchi.
In the following years, Lama Gangchen Rinpoche and other masters recognised Lama Michel as a tulku, a reincarnation of a Tibetan Buddhist lama. Great lamas like Zopa Rinpoche, Dagyab Rinpoche and Ghelek Rinpoche have confirmed that Lama Michel is the reincarnation of Drubchok Gyawal Sandrup, a Lama of Gangchen Chöpel Ling, a monastery in Tibet. During the fifteenth century at the time of the first Dalai Lama and the beginning of Lama Tsong Khapa's Gelugpa school, Panchen Zangpo Tashi, one of Lama Gangchen's incarnations, founded Gangchen Chöpel Ling monastery. His successor, the second regent of the throne, was Drubchok Gyawal Sandrup, a great yogi and master who gave many philosophical teachings.
At the age of twelve, Lama Michel decided spontaneously to abandon a 'normal' life to undertake a monastic life in southern India. He went to live at Sera Me Monastery – a monastic university with four thousand monks – and for twelve years he received the traditional training that is provided to lamas.
Since 2004 he lives in Italy with his master Lama Gangchen Rinpoche. From 2006 up to 2015 Lama Michel spent two months a year studying at Tashi Lhunpo Monastery in Shigatse, Tibet, under the guidance of the abbot, Kachen Losang Puntsok Rinpoche, one of the main masters of Tibet. He studied philosophy, tantra, medicine and astrology, and completed his training in Buddhist Philosophy, meditation practices, Lam Rim, Lo Djong and Vajrayana.
His Tibetan name is Chang Chub Chopel Lobsang Nyetrab, which means 'Wise and Famous Mind of Enlightenment which Spreads Dharma Successfully'. 
From an early age, Lama Michel has travelled the world with Lama Gangchen Rinpoche giving speeches and teachings to his friends and disciples in a very loving and kind way. Nowadays Lama Michel dedicates his life to sharing his knowledge and experience worldwide in all kinds of formal and informal contexts such as conferences, speeches, teachings, retreats, in schools and universities, through social media etc. With his clarity, compassion and wisdom he shares the profound and vast Buddhist philosophy in an excellent way, perfectly adapted to the needs of people in our contemporary society.
Lama Michel guides various Buddhist Centres worldwide, such as Centro de Dharma da Paz in Brazil and Albagnano Healing Meditation Centre in Italy.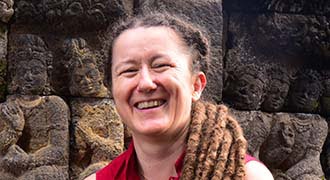 Lama Caroline
Lama Caroline, Dorje Kanyen Lhamo, was born in England in 1965. She started to study and practice buddha-dharma in 1986 and since then has had the fortune to meet and study with many of the great Tibetan masters of the Ganden Nyengyu tradition. 
Since 1991 she has studied closely with her root guru T.Y.S Lama Gangchen Rinpoche, whom she has accompanied on numerous international teaching tours and pilgrimages worldwide.
In August 2000, in Tibet, she was recognised by Lama Gangchen as Lama Dorje Khanyen Lhamo (Goddess Who Upholds and Transmits the Vajra Speech of the Buddha) and is one of the two lineage holders of NgalSo teachings.
She has done numerous meditation retreats of the Mahayana -Vajrayana traditions and teaches courses and workshops on Buddhist philosophy, tantra, medicine, yoga, Buddhist astrology and meditation. She has a diploma in Inter-religious Studies from the Open University (UK), an MA (with merit) in Buddhist studies from the University of Sunderland (UK) and studied classical Tibetan and Sanskrit for five years. She has worked for the past 28 years producing the books and sadhanas of the NgalSo tradition. 
Since 2007 she has divided her time between Italy and Spain and is recognised as a Religious Minister of the NgalSo Tradition by the Spanish Government.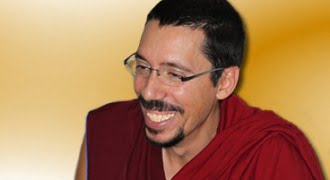 Lama Thubten Wangchuck
About Lama Thubten Wangchuck
Lama Thubten Wangchuck was born in Barcelona on 3 December 1970. He began to study Dharma with Venerable Lama Gyatsem at the Dag Shang Kagyu. He took Getsul vows at Gangden Choling in Menorca in 1991.
He has completed retreats of Chenrezig, Sanghye Menla, Green Tara and Vajrayoghini. He is lineage holdder of Kum-gye, Nangpa Neljor. He is currently studying and practising the teachings of Lama Gangchen Rinpoche.
---
Visiting Masters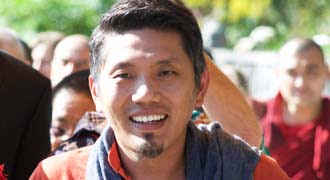 H. H. Kyabje Trijang Chocktrul Rinpoche
About H. H. Kyabje Trijang Chocktrul Rinpoche
H. H. Kyabje Trijang Chocktrul Rinpoche is the eighteenth in a lineage of eminent Indian and Tibetan pandits and masters. The supreme reincarnation was born on October 15 1982 in a Tibetan family in Dalhousie, Northern India and was officially recognized by His Holiness the 14th. Dalai Lama on April 23, 1985. Rinpoche has completed his primary studies under his root guru H.E. Kyabje Lati Rinpoche and Kyabje Dagom Rinpoche. Presently Rinpoche is doing further studies under the guidance of H.E. Dagpo Rinpoche, H.E. Yongyal Rinpoche.
His Holiness Kyabje Trijang Chocktrul Rinpoche visited Kunpen Lama Gangchen on several occasions and transmitted various initiations and teachings to the Sangha in Italy.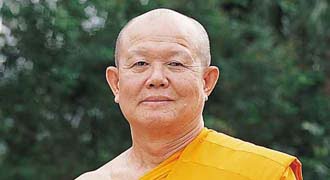 Luang Por Dattajeevo
About Luang Por Dattajeevo
Venerable Luang Por Dattajeevo was born Padet Pongsawat on December 21, 1940 to an agricultural household in Pakplaak District of Kanchanaburi province, Thailand. He graduated in agricultural science from Kasetsart University and studied in Australia at post-graduate level.
Luang Por Dattajeevo's path on his pursuit of Perfections is filled with lots of extraordinary thoughts and ideas. Since a young age, he has always enjoyed practicing meditation and reading books on all subjects, especially about the practice of meditation found in various ancient scriptures. He sought out numerous well known meditation masters to train him in meditation in order to dispel any doubts about 'merit, demerit, and the existence of heaven and hell' that remained in his mind.
Luang Por Dattajeevo ordained in 1971 and became known as Luang Por Dattajeevo, which means "He who gives his soul (to Buddhism) and quickly became a well-known teacher and speaker.
Theravada master Luang Por Dattajeevo and Lama Gangchen Rinpoche maintain a long-term friendship, which is expressed in Lama Gangchen's yearly visits to the Magha Puja celebration in Bangkok. Luang Por Dattajeevo also visited Kunpen Lama Gangchen and gave teachings to the Sangha in Italy.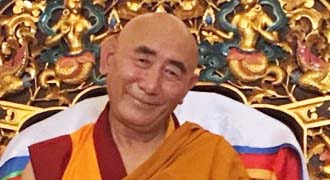 Lama Nyitrul Rinpoche
About Lama Nyitrul Rinpoche
Venerable Lama Nyitrul Rinpoche was one of the main disciples of Denma Gonsar Rinpoche. He has always been a friend of Lama Gangchen Rinpoche. He is not only a holder of great knowledge and of the direct lineage of Denma Gonsar Rinpoche; he is also a 'yogi mahasiddha style' with great realisations. Currently he is one of the most important lamas in the Kham region in Tibet where Denma Gonsar Rinpoche used to teach.
There is a well-known story about a strong earthquake in Yushu, China. The whole house fell apart but the room in which Nyitrul Rinpoche was meditating remained completely intact. The firemen had to take a ladder to bring him down, cause even the staircase had fallen apart.
Another story is when he was in jail during the Cultural Revolution. He was handcuffed during daytime, but at night-time he removed the handcuffs, got out of his cell and went around to the other cells to help other prisoners with healing and psychological help.
Vajravali – Vajra Garland
In 2018, from the 16th of April until the beginning of June, an extremely rare and precious event took place in Albagnano Healing Meditation Centre. Venerable Lama Nyitrul Rinpoche was invited by Lama Gangchen Rinpoche to give the 45 empowerments of the Vajravali cycle.
The Vajravali - or Vajra Garland - is a compendium of texts of various tantric deities and rituals. The cycle contains empowerments and blessing rituals of various aspects of deities including Kalachakra, Guhyasamaja, Heruka, Yamantaka, Hevajra, Vajrayogini, and the Five Buddha Families. Each of the 45 Vajravali tantras has an associated mandala, which can be found on the ceiling of the Temple of Heaven on Earth in Albagnano.
The event was blessed by the presence of a large international assembly of masters, lamas, geshes and monks from China, Nepal, Mongolia, India, USA, EU, Switzerland, Brazil, Thailand, Sri Lanka, Bangladesh and Taiwan.
This auspicious event was dedicated to World Peace, Environmental Peace and the Prosperity of Italy and the World.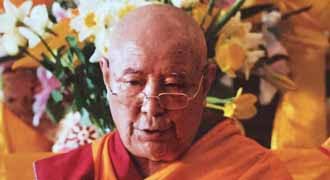 Geshe Thubten Trinley
About Geshe Thubten Trinley
In June 2018 Albagnano was blessed with a visit by Venerable Geshe Thubten Trinley. He gave the transmission and most excellent teachings of the Ganden Mahamudra, the Great Seal, the quick way to attain Enlightenment, following the text and lineage of Panchen Losang Chöky Gyaltsen (author of 'Lama Chöpa' or Guru Puja).
Geshe Thubten Trinley was one of the closest disciples of Venerable Geshe Rabten Rinpoche. He spent his early years in Sera Jey Monastery, studying under prominent and eminent teachers including Geshe Rabten Rinpoche, Kyabje Trijang Rinpoche and Kyabje Ling Rinpoche. He is known for his Lamrim retreats in Dharamsala, deep practice and excellence in his Dharma studies.
Over the years, Geshe Thubten Trinley has risen to become a highly revered teacher within the Gelug lineage. Many monasteries and Dharma centres regularly invited Geshe Thubten Trinley to give teachings on Buddhist philosophy, Lojong, Lamrim and Shantideva's Bodhisattvacharyavatara, as well as to preside over prominent religious festivals such as the Great Prayer Festival (Monlam Chenmo), prayer sessions and initiations. He also gave annual teachings and initiations in Shar Gaden Monastery in Mundgod, Karnataka, India.
Geshe Thubten Trinley gave Dharma teachings in Buddhist centres worldwide.
In recent years he was a resident teacher at Rabten Choeling Monastery in Switzerland, where he taught the Lamrim Chenmo three days a week. Besides the weekly public teachings, Geshe Thubten Trinley also tutored the current incarnation of Geshe Rabten, Venerable Tenzin Rabgya Rinpoche.
Geshe Thubten Trinley left his body in June 2019.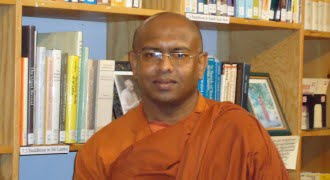 Anuruddha Thero Karuwelagaswewa
About Anuruddha Thero Karuwelagaswewa
The Venerable Anuruddha Thero Karuwelagaswewa is an Insight Dialogue Teacher in Training. He was born in Sri Lanka in 1971. At 8 years old he joined the monastery, was ordained as a monk at age 12, and later studied Buddhist philosophy at the University of Jayawardhanapura and a Buddhist approach to counseling at the University of Kelaniya's Postgraduate Institute of Pali Buddhist Studies. Bhante Anuruddha earned a postgraduate diploma in counseling in Vellour, India.
Since 2003 Bhante Anuruddha has been the abbot of the Zurich Buddhist Vihara in Switzerland where he teaches Theravada Buddhism and Vipassana meditation to all those who want to expand their knowledge and their horizons. Bhante Anuruddha was first introduced to Insight Dialogue on retreat in 2005. Insight Dialogue is what he had looked for in the counseling field for many years and Bhante Anuruddha is happy to practice the Dhamma in a practical way.